I get off work early on Friday's, and Landon had decided to be a deadbeat and take the day off work, so we were able to hit Stella's rooftop café for two-for-one's and free shrimp (HOW CAN YOU GO WRONG WITH FREE FUCKING SHRIMP!!!!), not to mention a cool sign on the wall that says "Our Mullet is Clean, What About Yours?" Landon put an obese man to shame, and received his scorn as he shoveled in shrimp with reckless abandonment. Although, I will say this, I think they were trying to discourage our gluttonesque behavior, because they had pictures on the walls of large people scantily clad. I understand why this would be good when they were giving away food, but for the people who paid for food, I would think it might make them turn down dessert.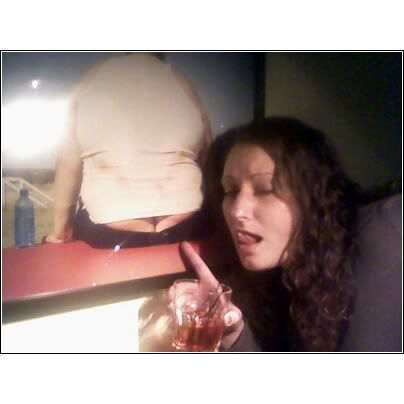 On the walk to Stella's we saw a midget talking on her phone. Being totally into midgets, I started flipping out, going on about how this was a harbinger of the good times that were in store for us that evening. But Landon pointed out that the midget was angry, and possibly meant the opposite. When we got home, he cleverly drank water, I did not. By nine when we went over to Hart's house next door, I was already way past tipsy. Turns out shrimp really doesn't soak it up. The three of us walked to Old Chicago, and I tried to sober up, but it was not working, and even my favorite waiter knew I was not in a good way. I passed out early at 11, proving Landon correct that an angry midget WAS foreshadowing of a bad evening.

Saturday night I redeemed myself. I'll admit to some douchebaggery of leaving a date early when I got a call from Calvin Crustitron telling me he was next door at Hart's house and they were going out. I hastily left, called Landon, told him to fill up my flask. We went to the Drink where I saw HER. The cutest little midget girl I had EVER seen. I didn't know what to do, so I just went for it, and asked her if she would be into wrestling with me in lime jello. At first she didn't take me seriously, asked me to tell her friend, and I hesitantly but excitedly did. I explained it wasn't a sexual thing and hell, I would even let her win. SHE AGREED!!! And I have her phone number. I haven't called yet, because I wasn't sure what the protocol was, or if I should wait 3 days like after a date. I'm open to suggestions for this one.

Calvin Crustitron was self-admittedly being a scumbag and chatting up some pregnant girl to get in with her friends. He ended up drunkenly making out with some girl in the McDonald's drive thru after bar close when she let him in her car because McDonalds wouldn't serve him. For the second time, I about lost the top of my cell phone flask and only managed to find it at bar close when they turned on the lights. I think I need to wear it around a chain on my neck.