I brought
Chuck
over today, now it really feels like home. It wasn't easy to get him here though. First I had to take pliers to him, to release him from the nails that crucified him to the basement wall in Lawyerman's house. And of course today was windier than Oprah's asshole, so he kept trying to fly away both on the trip from house to car and car to apartment. I am sad to say we had a rip. For all of the
legend about him
(like, there is no 'ctrl' button on Chuck's keyboard, because he is ALWAYS in control), he tore fairly easily.
Luckily for us all, it was only a slight rip; hey, I don't want to get my ass kicked because of it, and because he's omnipotent, he KNOWS when an effigy of him is damaged. So I decided to put him up next to the elliptical machine, so that way when I start slowing down, I have Chuck looking down upon me, telling me that is unnacceptable, and he will roundhouse kick me in the taint if I dont speed up.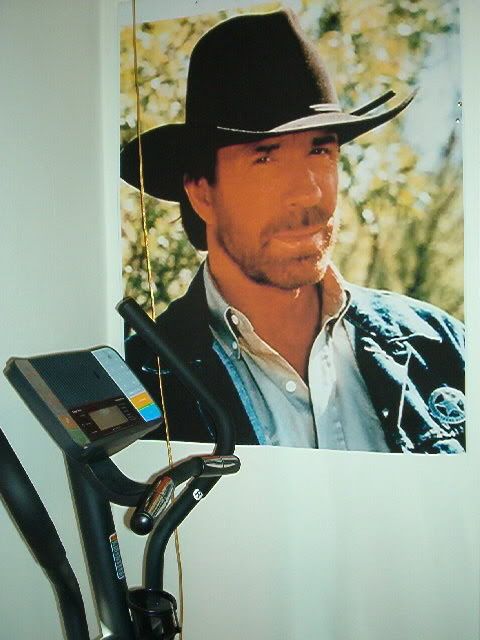 This weekend was super cold, so no real awesomely entertaining stories. However, I have had like 6 people tell me about
this product.
With all of my flask adventures and focus on my fantastic rack, a booze bra does just scream "Tequila Mockingbird," as loud as a first time porn chick faking it. I like how when people hear about this product they instantly think about me. I guess it's better than if a facial wart remover product reminded people of me.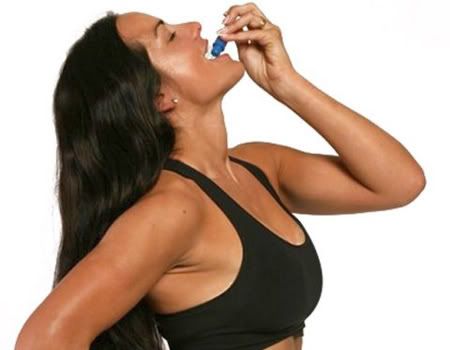 I would totally dig this product, because the biggest problems I have with my flask, is that I lose the top to it, or that it's bulky. And because I already have ample endowments, it's not like at the end of the night I would be left flatchested. The one concern I have about it, is that if I sprang a leak, then my shirt would reek of vodka. "Yeah Officer, my flask bra sprang a leak...", wouldn't neccessarily help me if I got pulled over. Either way, it's good to see inventors are making quality and important products for boozy broads like me.