So I totally remembered why I stopped smoking weed this weekend. In college, I was one of those students that went to class high, did homework high, studied high, took the test high and got high grades. But eventually, I stopped. While moving, I found my water bong, and mentioning this to a friend, my friend gave me a present. All this past week, I was having a helluva time, enjoying my present, and I kept telling Landon, "Jesus-tap-dancin-Christ, why did I ever stop chonging down? This is GREAAAAAT!!"

Positive evidence for not stopping was when on Friday, I got ready for all you can eat FREE shrimp at Stella's by having some herbal essence. We walked down, and I will say this, there was an ugly, middle aged, overweight woman (reeking of liquid butter and overall dissatisfaction with her life) who was standing by the bowl of fried shrimp, just shoveling shit on her plate, and then she gave me a bunch of shit when I tried to get some with the other set of grabbers. Fucking greedy bitch, BUuuut because I was a little more chilled out than usual I just smiled and was patient. I could've punched her in the throat like I did the last chick that fucked with me, but I did have plans later that night and I did not want to go to jail.

This positive was negated by when on the way back home, Landon warned me about this huge patch of ice, but there was this girl walking towards us with this tacky skirt (the best way to describe it is if someone ate a clown wig and then threw it up in the shape of paisleys), and because she was large, there was so much more skirt to appreciate so I was entranced. Next thing I know, I'm looking up at Landon from the ground. My knee instantly turned black/blue. Looks hot, doesn't it?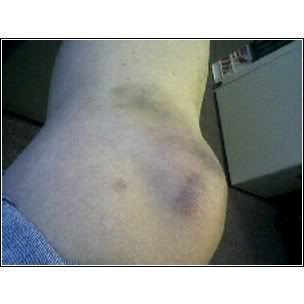 More to remind me why I quit smoking was when I was looking at my hair, and noticed a silver hair (oddly enough, it's straight too), and then I got paranoid (hmm, wonder why?) that I was aging overly fast. Landon thought it was hilarious, because he started going silver when he was 19. I made him come with me to Liquor Lyles that afternoon for some two-for-one's, to make the pain lessen. I ended up forgetting my card at the bar and even though we went back and I got it, it legitimately sucked. I could deal with losing my keys and my phone around the apartment, but that's just too much.

So there you have it… I think I'm tapping out of any greenery, and I'm taking ginko bilboa to offset any short term memory loss so I don't forget this time.