By popular demand, and my brief mention of it yesterday, I felt I needed to share the story of my bowling alley fight. I will preface this by saying I am not a violent person, and the last fight I had got in before this was when I was 15. I am a happy drunk, one that spreads joy and humor like a prostitute spreads her legs (and ultimately STD's).

Anyway, I was leaving
Elsie's
with a group of friends, and we were waiting for the crosswalk sign to light up. When it did, the group of black girls behind us were impatient and told us to "Move out tha' way." Keeping in mind I am little feisty even while sober, much less when I've had a solid four hours of quality drinking in, I responded with a polite: "GO FUCK YOURSELF!" They were not as amused as my friends were. Next thing I know, I am flying through the street like Superman, because I had been pushed from behind. I was fortunate there weren't cars coming because I would've been hit.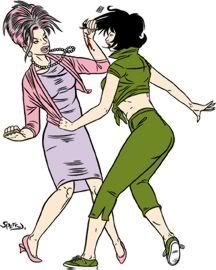 When I got up, I was not in a particularly charitable mood, because I am relatively tall for a chick, I usually don't have people starting shit with me. So, I did the reasonable thing, and punched her in the throat. People have asked me why I didn't punch her in the face… the answer seems obvious: it's really hard to hit someone back when you are trying to breathe. People have also asked me what she said after that; she wasn't doing a whole lot of talking, as she was concentrating on not swallowing her tongue. Her friends were shocked and laughing at her, saying something about "OHHHhhh SNAP WHITE GIRL HIT YOU." My friends were scared and saying something like "OH FUCK THEY ARE GOING TO SHOOT US" and hustled me away before the situation could escalate. They now refer to it as "The Night We Could've Died."

My elbow was all bloody and gross, and I had hit the ground hard enough to tear my jeans and still bust up my knee. Overall, I think I still won, because I got the last hit in. And if anyone disagrees, we can fight about it.