I am reflection upon what I am thankful for, since it seems it's that time of the year AND all the cool kids are doing it; what can I say, I'm still a sucker for peer pressure, guess it's the spirit of a child (and baboon heart) that resides within me.

The biggest thing I am thankful for is the cocktail of drugs I'm on to kill this cold: Amoxicillin, Sudafed, and robatussin. Yes, it makes me slightly dizzy, but it's so strong I think it's not only killing the cold, but whatever else might have been plaguing me that I wasn't aware of.

Coming in a close second to drugs would definitely be cranberry juice with calcium in it. I need my bones to be as strong as possible for any falling down I might be doing, and because one of my favorite drinks is cranberry vodka, I drink a decent amount of cranberry juice. Thanks ocean spray for helping me not become a cripple!

A solid third is the myriad of sites dedicated to showing pictures of
peoples cats dressed up
or just with
misspelled captions
(because cats have horrible grammar, right?) in a comical way. Without these, I would need to fill a large chunk of my workday with actual work. There is even a
blogger site with LOLcats and their secrets
. You dont even need a cat to appreciate it.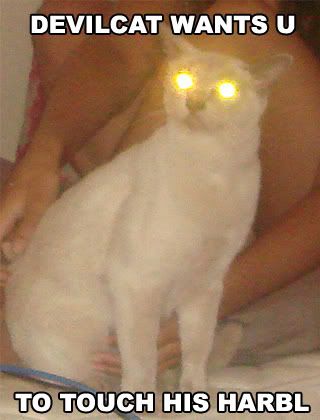 It may not seem like something to be thankful for, but it is something I no longer need to scream at the skys about; The "Snakes on a Plane" ringtones have finally been put away. It's taken over a year, but I can say that it's been a couple months since I heard Samuel Jackson's voice scream "GET THESE MOTHERFUCKING SNAKES OFF THIS MOTHERFUCKING PLANE" while in public. It was cute the first couple of times I heard it, but I quickly grew weary of it.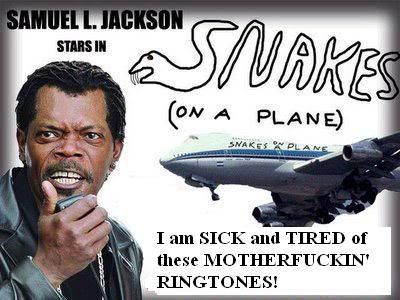 Coming in last, but still deserving note, is the plastic spiders that my coworker Calvin Crustitron and I throw at each other over the top of the wall we share. I cannot count how many times these have saved me, right in the nick of time from a boregasm.

There are many more things I'm thankful for, like for example that my face does not resemble a shoe like Sarah Jessica Parker's (why do you think Mathew Broderick has packed on the pounds? He's been trying to eat away the pain). But I will leave it at these few things and wish everyone a Happy, gluttontastic, Thanksgiving. I'll be off the grid until Monday.