Yesterday I had the misfortune of eating at
Sbarro's
. I guess there is a reason they are almost solely limited to shopping mall food courts. I was craving a calzone, and mistakenly thought that they could help me with my need. About two bites in, I could no longer deny that the chicken-broccoli calzone tasted like raccoon vomit wrapped in cardboard. Usually I don't complain about food, especially if I can't see where they make it (I certainly don't want someone beating off onto my chicken fillet), but it was legitimately vile and the beauty of the Sbarro's layout allows me to view the food preparation.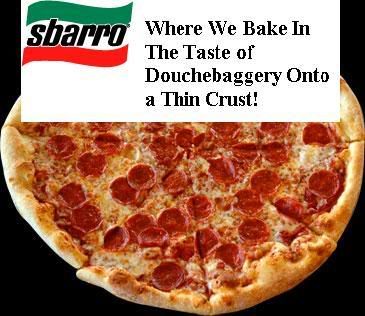 At first I approach the swarthy, hairy, foreigner with polite dissatisfaction, letting him know it was cold and tasted poorly. He offers to re-heat it. That would be a valid offer if I had only said it was cold, but no, I said it tasted awful. I would think that the statement infers I want something else. I tell him this, and he starts going on about he's been selling it all day, and no one complained. Maybe that's because it was edible 4 hours ago when he made it, and so I demand something else. I am in business dress, and obviously not needing to beg for food like a street urchin. It's not like it comes out of HIS paycheck. What kind of fucking customer service is this? I'm still debating on whether I should make an anonymous complaint to the manager, telling them that I'm 15, and this sonofabitch offered me free pizza outside by the dumpster if I would give him a BJ.

I think the reason people don't take legitimate complaints seriously is because people bitch about ridiculous shit too much. Granted, I go off on
rants,
but they are about
valid concerns
and
solid issues
that need to be bitched about. It's the unnecessary shit that ruins it for the rest of us. For example I was at LawyerMan's Spamville Thanksgiving, and one of his relatives bitched about getting their pumpkin smashed. WTF? I asked what time and where it happened. They said it was about 9 at night, the day after Halloween, and in the street…. What were they planning on doing with it? They were going to THROW IT OUT… Seems to me that those kids did you a public service. Hell, they are fortunate their lame-tarded blow up lawn ornaments didn't get deflated. Even then, I'm not sure they should be able to complain; those herpe-like sores that scar the lawns of America are practically begging for some hooligan activity to be perpetrated upon them.
UPDATE: how little my readers seem to know me.... I've been getting comments insinuating I was ok with having a shitty calzone or that I might not have made a scene. Goddamn right I made a scene, and though the pizzia that I got instead wasn't much better, at least it didn't taste like raccoon vomit wrapped in cardboard.