It is commonly known that sex sells. However, I was surprised to find out what they were using it to sell; raisins. The new sunmaid raisin's girl is so hot, she caught Lawyerman's 7-year-old son's attention in a recent commercial. I heard him say "that's yummy!" which confused me, because I know he isn't that big of a fan of raisins. So I asked him about it and he clarified that he was talking about the girl, not the raisins. It seems an bit of a oxymoron, youthful perkiness to sell a product that is withered and dried up. Maybe nursing homes should take a cue and have Hooters girls doing their commericals.


What is next, having some hot broad in the denture cream commercials? Some used-up stripper that lost all of her teeth from doing too much coke, talking about how Polidgrip helps her give better blowjobs because of the suction… Sure as hell beats the appeal factor of
Florence Henderson from The Brady Bunch
doing the commercials!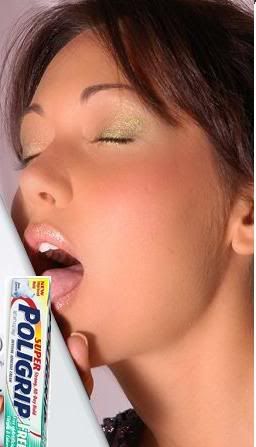 Commercials in general can be filthy teases. I've previously discussed the sparkly vaginas on the Girls Gone Wild commercials and how I couldn't seem to find them either in real life or on the DVD's themselves. Then there is the Got Milk advertisements, with their cum covered upper lips (although, they need to stop having ugly people do those ads, because when I see some pig-faced actor with a white mustache, it doesn't make me want to drink milk or give anyone head).

Using sex to sell things isn't a new concept. Just look at this old ivory soap ad; it looks like they are teasing 1920's males with the promise of wet, slippery, gay sex to get them to buy their soap.