So I spent the holiday in Austin, MN, which is the home to not only Lawyerman's family, but to Hormel… Unfortunately, one of Hormel's biggest products is spam, and they have many processing plants there, so the entire town reeks of spam. It is legitimately vile.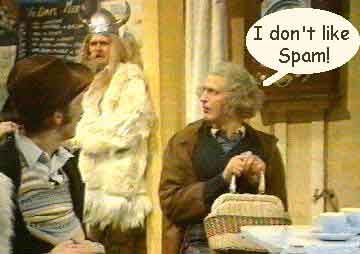 His family is so big (his dad had 9 brothers and sisters, the majority of them having children and grandchildren), they rent a church to hold the main dinner. I have made it my mission the past few years to rearrange the 'last supper' figurines to where they are performing various sex acts upon each other, except for Judas who is servicing a donkey.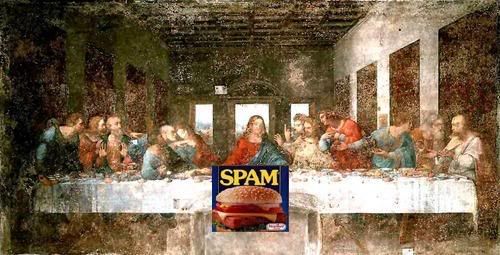 They always have a hippy handholding thing before it's time to eat, and it always takes more time to get the 70 or so people into a circle than it does to do the actual prayer. But I've used this to my advantage, and always make sure I am in the part of the circle by the kitchen so I am one of the first to hit the buffet, before the obese relatives eat all of the cheesy mashed potatoes.

I never know quite who to hang out with, the people around my age or the generation before them that is Lawyerman's age. I usually go for his relatives that are my age, because all of the people his age don't quite take me seriously because of the 15 year age difference, or their fondness for his beast of an ex wife (who should be thankful I've never given her a kick in the cunt). Despite the change in my living arrangements, no one gave me any shit, possibly because they liked my pumpkin cheesecake so well.

I was talking to LM's white gangsta' cousin that sports a Justin Timberlake hat, and I was asking who some of the people I didn't recognize were, and him and some of the other cousin's conferred that they might be randoms, who saw the feast (one large enough to feed an Afrikaan nation) through the window. The family is so ginormous that not everyone knows everyone else's name, and wouldn't flat out ask a person how they are related. So I think if I ever don't have plans for the holidays, I'll just start crashing people's large Thanksgiving celebrations.

I ended up playing poker with one of the 80 year old aunts, who I wasn't quite sure if she was cheating or just senile, but I was too drunk on pinot noir to care. I don't usually drink wine, but any port in a storm, right? His family is pretty hardcore Norwegian, as are many indigenous Minnesota families, and I was thankful they served
lefsa
and NOT
lutefisk,
which smells worse than spam ever could.