This weekend I managed to lose my cell phone while drunk (I know, imagine that?) in downtown. Unfortunately the bastards at Sprint, feel that charging me a $50 deductible and making me wait four business days is should be worth the extra charge a month for cell phone insurance.
It should probably be some kind of character building experience for me, where I learn to throw down the crutch of a cellular phone, and I suddenly feel unburdened by the constant stream of phone calls, email checking, phone and text messages, but instead I feel awful. I haven't been without a cell phone since I first got one when I was 16. I'm not sure how people managed without it. Like those amputees who feel the itching and tingling even after their limb is gone, I still hear my Dropkick Murphy's ringtone even though I have no phone.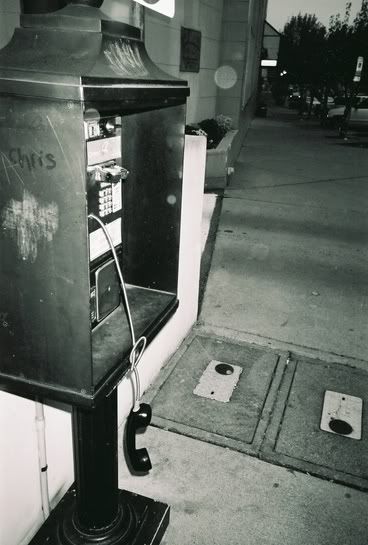 How dare those d-bags at Sprint make me go this long without a phone. It's not 19fucking82. At least if it was, there would be a pay phone on every corner. But because businesses like gas stations and shopping centers have gotten in trouble from drug activity being done from a phone on their premises, many of them have taken the phones out. So today, while driving, I NEEDED to make a call like a jonesing addict needs their fix (my veins were itching and everything!) I had to drive all over east jesus to find a phone. At first, I gave up easily, which is par for my apathetic generation, and went inside to a gas station to ask to use their phone. A portly woman, who looked as if her face caught fire and was reconstructed using the mole-ridden skin from her ass, told me it wasn't for customers. I responded that it was a good thing I hadn't bought anything because I technically wasn't a customer. She closed her taint-skin eyelids to tiny little slits of annoyance. I could see I wasn't going to get anywhere with her, so I told her I hoped someone would one day rob her at gun point and locked her in the freezer.
After wasting more time and gas looking around, I finally found a pay phone that smelled like a seat cushion at the DMV. I worried just by touching it that I would get scabies. There is not enough anti bacterial hand gel to rid the unseen filth from my hands. Thanks Sprint.