I didn't really feel like working out this morning. Actually, I felt like vomiting, so much so I kept the trash can by the elliptical. But if you can make it through the first 150 calories, you're usually good to go. I cant really say I'm surprised, two happy hours can lead to some unpleasantness in the morning. The first happy hour was with my office, which wasn't bad at all. We all get along well when we are drinking and not being dicks to each other. It was like motherfucking magic!

From there I managed to have a whole hour and a half to myself (it's actually a lot harder than you think to manage that sometimes) where I hit the bong, Guinness, and the elliptical to work off my beloved beer that's so thick it's like you need to chew it. Also, it is handy that my beer bottle fits in the cup holder of the elliptical… it's like they were meant to be! Then my friend picked me up and we went to the Herkimer on the other side of Uptown. It's not quite as awesome and trendy as the part that I live in (I blame the goddamn hippies that make it so bohemian filth-chic; go smoke your hookahs filled with flavored tobacco somewhere else).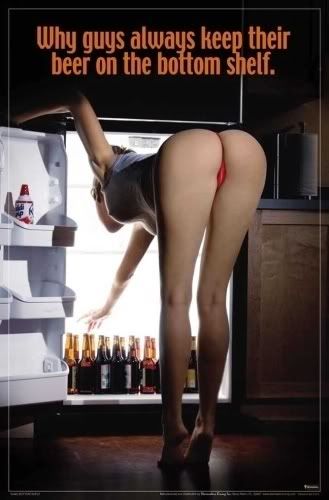 Anyway, so I'm usually a fan of
the Herkimer
, because it IS awesome that they brew their own beer, make the best sweet potato fries, AND you can play shuffleboard (hey, it's about time I learn… I'm getting old; I turn 24 in a week). But last night they were not making my vodka cran's very stiff, so I figured I'd get a beer (hard to fuck that one up), and then I remembered, HOLY SHITCOCKS! they only serve their beer there. Not cool, but I cowboyed up and tried one of their lagers. Not too shabby. My friend was not amused with the place because our waitress with the nice cans was ignoring him and hitting on me. In her defense, I was rockin' some cleavage of win last night. I think we managed to come out even because I stole a Herkimer glass to add to Landon and my collection of pilfered bar glasses. Too bad it wasn't all the way empty and my new nine west purse now smells of beer.