To say this weekend was shamrockin' would be an understatement. Friday I went to the Eagle, a fanfuckingtastic gay bar with my most favoritest homos. They honestly have the best drink specials, with three-for-one's, which had me with one vodka cran in the crook of my right arm, one in my right hand and drinking one out of my left hand. They gays totally dig me because with my super-tallness, big curly red hair, and stellar rack I remind them of a drag queen, just without the man face or adam's apple. So, after some raspberry kami's I was sure enough dancing with my homo-tastic friends, which was all cool until my one friend unzipped my pants and pretended to give me some mouth-lovin' but was really just blowing hot air on my cooch… the bartender was like "cut that shit out!", but they have a healthy appreciation for me there, since I was one of the 5 females at the bar, and I wasn't gross looking like the others.

Saturday, Landon and I paced ourselves (slow and steady wins the race!), not starting our pre-drinking until 5 (I'll give Hart a lot of credit, when I talked to him at 5:30 he wasn't even sure what bar in uptown he was at, yet he soldiered on through the entire night). The Novice was our designated driver (thanks again, cupcake!), to St Paul where we did our pub crawl. Honestly, I don't remember all of the bars we went to, but they were all packed to the rafters. I remember McGoverns, because Calvin Crustitron was hitting on this cougar, and before we left, he gave her his phone number; the rest of the night he kept drunkenly yelling about wanting to "put it in that old whore's butt!" Liffey's was also legitimate good times, but beware of the rookie mistake of buying the bottle of Guinness when you can get a pint that is the same price but more booze. When I was double fisting my Guinness, I distinctly remember some dudes in green beards who were impressed with my ability to do this. I was, however, impaired enough where I had to stop texting people who were trying to figure out which bar I was at so they could meet up with us.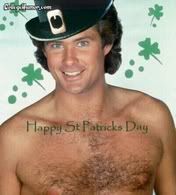 Eventually we made our way back into Uptown, stopping at the SoHo café for some pizza, where they were not enthusiastic with our raucous festiveness, despite the lack of belligerence (hey, we're all good natured drunks!). This was just the fuel we needed to walk down to Williams for some green beer and free peanuts. That's where we met random peanut guy. He was taking the free peanuts and throwing them in people's drinks. When we realized this, we started throwing them in his, and then of course picking the peanuts out of our beer and throwing them at each other (they actually hurt if they hit you hard enough when they are wet). Normally, the staff would not look kindly upon peanut wars, but they were so busy, that was the least of their concerns.

We walked home after bar close, Landon and I arguing about who gets to sleep in the bath tub (makes clean up so much easier when you can just hose yourself off). I woke up with more beads than I started off with, my hair smelling of Guinness, peanuts down my shirt (probably my fault for having cleavage), and the NEED for much water. All indicators I did indeed have a good night.

I don't have all of my pictures back yet, but I should by wednesday, and then I'll post them.