So as you very well know, i'm pretty UNDENIABLY Irish, so for me, St Patricks day is akin to Hanukah in that its not just one day/night.. it's like that whole '8 crazy nights' concept; I've even been listening to Irish punk music all week to get myself ready for the awesomeness that will be this weekend. Last year was pretty sweet too, and because I heart you all, I will repost from my myspace last year's adventures to tide you over until I am fully recovered from the most holiest of holidays:
Even though St Paddy's day wasn't until Saturday, I started Thurs night baking Sheppard's pie and drinking appletinis at Sarah's house. Friday night, four other people and I went to Kips, this Irish pub that's attached to a Marriot and got some rooms. Many Irish car bombs later and after some killer Irish music, we realized the bar would be closing at 1. OH NO!!!! What to do?!? We certainly weren't going to be driving to a different bar; that was part of the purpose of getting a room... to ensure there would be no chance of a pesky DUI. So we queried of the bartender:"Chad, what can you do about this?" And he informed us that at 1:01 he could no longer serve us drinks, but that at 1:00 he could serve us each two drinks. At that moment, we knew we would be ok, with some double fisting action coming our way. That led me to my next favor to ask Chad the bartender (and possibly the oddest convo i'd ever had with someone)... "So hey would you bear my children for me?" and he gave me this look of confusion and responded with a "ummmmm...." so I thought I must need to clarify; "Chad, come on, you'd LOVE to have a bunch of curly red headed freckled spawn of mine running around, right?" he was starting to get that I just might be a little drunk.
Chad: "well I wasn't planning on having children till I finished school, but for you I might make an exception."
Me: "thats good to hear Chad. dont worry I'll take care of you after I fistially inseminate you"
Chad: "wow, I didnt know that's how you would impregnate me.. but I guess if you're taking care of me and not going to leave me barefoot and pregnant in some trailer..."
Me: "youre a reasonable man Chad... I think you'll made a good man-mom to our little bastards"
Saturday started out well, with not a hint of a hangover (I shouldn't have taken this as a license to get as shit housed as I did that day). Had lunch at Keegans, and Irish pub in Mpls. It was packed to the rafters because they are one of those places that serve REAL Irish food, not some defrosted shit from a plastic container I detest. About 4 appletinis in (hey theyre green...) I realized I should probably take a nap. I woke up feeling quite refreshed, ready for this party I had been psyched about all week. There was going to be a belly dancer there... (be still my heart). You wouldn't think a belly dancer was apropos at a St. Paddy's day party, but it was also the host's birthday, so why NOT have a belly dancer?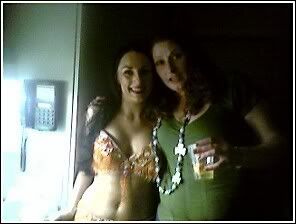 In hindsight I should've ate more than brie (it doesn't really soak it up so awesomely). Also, I shouldn't have started leaving my redbull mixer out of my mandarin absolut (three drinks in I thought it was a fanfuckingtastic idea). This guy, Dave, who I've known from other parties was there too, and for the longest time he had been trying to convince me that it would be SO impressive for a chick my age to drink scotchy mcscotch scotch . Before, I had never quite been able to stomach it. I'd like to say it was peer pressure, but no, I was just feeling gloriously festive. Then the belly dancer arrived.... I will admit to dancing with her (and allegedly making out with her). I remember needing to lean on people. I remember thinking I might have underestimated lunches' appletinis being gone from my system. I had also put entirely too much stock in how Irish I was and that I could drink all the vodka in russia and still be my usual charming self. I couldn't figure out why my drink kept leaping out of my cup. Perhaps it was the luck o the Irish that I was taken home before I got too obnoxious. However, I spent the wee hours of Sunday morning on the bathroom floor. My tab had come due.