I'm not quite sure what to think of
this product
. I am interested, but yet more than mildly disgusted. I am all for alcohol exploration (new and creative frontiers of boozing!), but to me, bacon vodka sounds like it might release a person from the shame and self recrimination of morning drinking. Maybe have it with a shot of cheese rum and some greasy hash browns to soak it up? This sets a bad precedent. I enjoy drinking, but even I don't tie one on in the morning. Granted, a person COULD drink it later, but I can only handle so much bacon. Besides, WTF would you mix it with, because not everyone drinks their vodka straight. I'm thinking cranberry and bacon vodka would probably taste vile.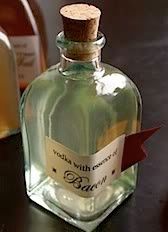 Something I definitely like (despite not drinking beer) is this shirt. Although, I'm fairly sure if I wore it out, I would get some random groping from gross people, which I wouldn't dig. Maybe I would just need to wear it to a lesbian bar and hope that most of the other people there were hot.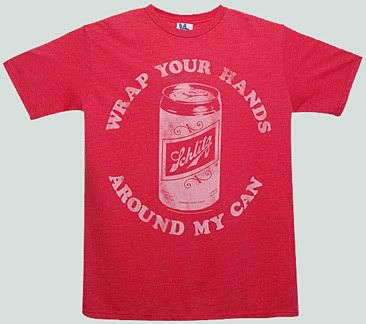 And this has nothing to do with boozing (well maybe it does because alcohol might encourage it), but I was greatly amused by this poster. Thanks google trends for telling us about the trend history of ass-to-mouth vs anal fisting. How was 2006 for you?