The other night over dinner, we were discussing sex and Landon said "Good sex smells like sweat, blood and poo." Though I disagree (seriously Landon, WTF?), I told him he should use that for his match.com headline. That got us talking about what other headlines would be fantastic to have on there. Here's what we came up with:
"I got bored with Porn"

"My wiener is crying, please soothe away the pain"

"When stalking just ISN'T enough"

"This is cheaper then a well-made blow up doll"

"Once you start shaving your ass crack, you don't stop"

"The state says I'm fully rehabilitated"

"Want to see my stuffed animal collection?"

"Save me from being a sexual predator!!!"

"What foreign objects may I stuff into your holes?"

"How keen is your sense of smell?
Feel free to add your own. This is all for today folks; I have a cold that has reared up again (turns out binge drinking doesn't help your immune system no matter how many vitamins you eat), and it's snowing like gangbusters here. Have a good weekend celebrating the rising of our Lord and Savior.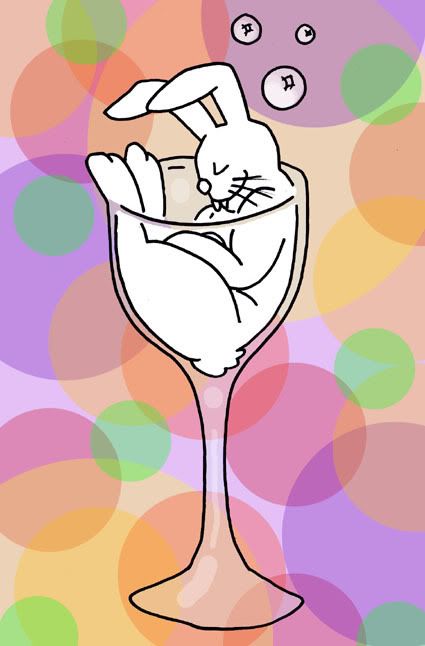 If you aren't sure how to celebrate, Calvin Crustitron and I came up with a Easter egg coloring drinking game. There's a couple different ways it can be played (improvisation is your friend with this one I think); our game plan was for everyone to have a drink, and there would be a timer set for 5 min, and in that time you drink your drink and color your egg. If the timer goes off and you have not finished your drink, you must finish it immediately and take a shot (something colorful of course). We figure everyone will end up trashed, covered in vinegar smelling pastel colors before the dozen eggs are finished.
UPDATE: Harx has come up with a great way to commemorate that the Easter Bunny died for our sins and then rose again, to be able to lay multi colored chocolate filled eggs:
As far as Easter goes, I'll be celebrating with an Easter Beer Hunt. One person paints up cans of beer and hides them, then everyone goes looking. What you find is what is yours, the only rule is that you must drink the last beer before looking for another.Works best if you have a 12-to-1 beer-to-person ratio, but tell everyone it is only a 3-to-1 ratio