My weekend didn't actually go like planned, but if it had, I'm not sure it would've been as much of a blast. Friday I was still struggling with my cold, and figured I'd stay home with some Magner's Irish hard apple cider. Halfway through the 6 pack, Calvin Crustitron excitedly calls, saying the cougar from our
pub crawl last weekend
texted him and we all needed to go out. Hart and his brother Jason further encouraged me to come out with them, and when Landon's date tanked because it turned out she was larger than he thought, me going out was solidified. I finished the rest of my Magners while watching a documentary on prostitutes with Calvin and Landon until the happy hour specials started. It was a pretty typical night of drinking with the boys; Old Chicago, then to Stella's for two-for-one's, and finishing up at the Independent.

Saturday I managed to be productive, despite my decision to overcome my slight hangover by staying in bed for two hours and chonging down. Then the gays called to invite me over for turkey dinner (thanks for all your hard work making it Chelsea!), which was more for Shane's birthday as opposed to Easter. Either way, root beer barrels, pink champagne, and Guiness added to the celebration. Part of the carrot cake got eaten by the dog, but we just cut off that section, re-frosted it, and popped some Easter egg candies in the side. Which reminds me, I'd like to give a big shout out to Jesus, for dying and all that jazz, because he made possible some delicious butterfinger eggs! As
Jon from White Boys can dance
says "Way to take one for the team, guy!"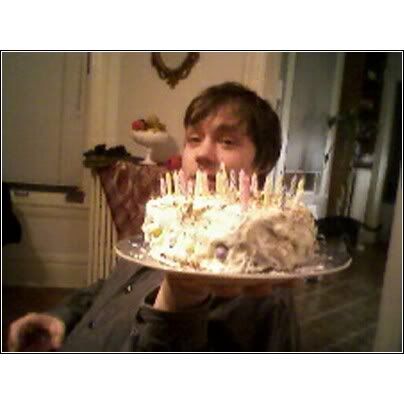 I also found out a few awesome things at Saturday night's turkey dinner that I did not previously know:
D

egrassi

rocks. Yes, it's for teens, but they have all kinds of scandelous shit going on that is HIGHLY entertaining.




Nate gives great foot rubs. Ohhh those are some lucky bastards that get handy-j's from him, cause those fingers are MAGIC!




Timmy is ferret sitting, so we played with them. HOOORAY for these little weasly varmints! Timmy would not let me give them Guinness though. *sighs*
Sunday Landon and I celebrated Easter in a somewhat untraditional way. I think it was acceptable to eat Chinese buffet because of the name of the place "Eastar Buffet"
They werent in such a celebratory mood there... they regarded us pale faces with much scorn, but that might have been because we were skimming the meat off all of the dishes. But hey, Fuck 'em if they cant take a joke!