Snow is melting, the sun is shining, birds are chirping… but douchebaggery doesn't quit for spring; it's always the right season! Now before I get into the meat (and I know I love meatiness, DON'T YOU?!?), I'd like to give an honorary douchebag runner up award to all of the people who said they were quitting blogging. Yes, haha, yesterday was April fools, BUT, to all of the ones who have threatened to swear off blogging forever, don't just talk about it, do it. And if it's being said to get people to pander to you and say: "Oh please don't quit, you are a blogging rockstar," you can suck a dumpster full of dicks.

Moving right along, the real douchebag heroes that have won this month are the Hookah smoking hipsters. Personally, I don't get the idea of wanting to put smoke and filth in your lungs if you aren't going to get high. If these were opium dens and not hookah lounges, I would be in full support of them. It's almost akin to the scam of non-alcoholic beer. Why not just smoke something out of a light bulb that doesn't get you high (but still makes your teeth rot out), so you can FEEL like you're smoking meth. My main point is, why would you do something that gives you the negative aspects but yet gyps you over on the positive, pleasurable benefits? Who the fuck do you think you are, that blue caterpiller from Alice and Wonderland?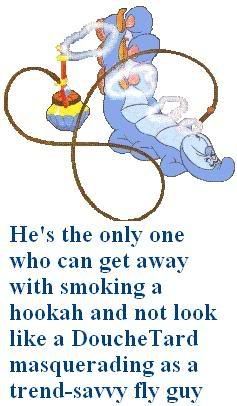 How about you shove those hookah mouthpieces up your ass (hell, you might get more pleasure out of it that way)? Blowing smoke up your ass is in essence what your friends and whomever else has done by convincing you going to these places is a quality idea. Not only are these goddamn hookah lounges a waste of fucking effort, but they are taking up prime realty in my trendy Uptown Minneapolis neighborhood. Yes, there are already a shit ton of bars within walking distance, but I've managed to piss off a bartender at one of my favorite places (THAT was a whole bag of fail on my part), so a new bar would be welcome at this juncture.

When being hip becomes more important than common sense, it's time to put down the starbucks, take off your ipod, and think for yourself. If you cant do that, I hope you get raging mouth herpes from the hookah mouthpeice, as sort of a scarlet letter to warn everyone of your douchebagtitude.