My sugar-free red bull addiction has me all hyped up this morning, so this post might be a little scattered. First of all, my deepest, darkest fears are coming true. Not too long ago I wrote about how
squid scare the bejesus out of me
. Now, it seems they have found a
1,089 lb, 26 foot long squid
; you laugh now, but when they evolve to have bones in their body and come ashore to fuck you up with their acid-ink, it wont be so funny. So, it's time to take some action, and eat more calamari.
Second order of business is to attend to this meme that I inadvertently started when asking one
of my
bizarre questions on a comment on Malach's blog
. "If you could go back in time, and combine your genes with any non-human animal, to create a super race, what would it be and why?" Well, this has already been somewhat done for me by a children's television show,
The Thundercats
. I would combine my superior Irish seed with a
cheetah
, because of their speed and stealth. Unfortunately, they aren't so good adapting to new environments, but as proven when I adapted to a new climate with a move from Florida to MN, my genetics would iron that out. Also, just like cheetahs, I am spotted as well. See what an awesome thundercat Cheetara I make! Not to mention, a Thundercat could totally whip the ass of bony squid...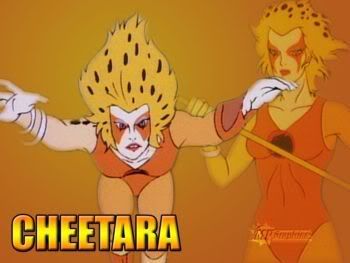 And finally, last night was a sad night at Uptown Old Chicago; it was my favorite waiter James' final night working there. He's moving on to bigger and better things, and I wish him the best of luck, but it's still a sad occurence.
Thanks for overlooking my flask action, and forcing me to eat pizza when I'm too drunk. I'll definitely come visit you at your new digs in downtown.