I
don't feel like doing a legitimate post today, so I figure I'll plug some stuff instead.

First of all, Capt. Flak PaperPants has been doing awesome things with his webcomic,
Dick Biggman.
I have never plugged anything on here, because I'm not a tool. But, this is so fanfuckingtastic, that I must let the hillarity ensue for you as well. Besides, who WOULDNT want more dick? Just the fact I am plugging it should tell you how amused I am by it.

Secondly, I want to plug the guy outside my apartment building who gave me a dirty look when I was walking across the street with my bottle of Guinness last night. And by plug, I mean cap him in the ass, Charlton-Heston-shooting-some-goddamn-ghost-apes style.


Thirdly, here is one of my awesome birthday presents I received. I look good in it, but I might possibly look better out of it. Anyway, Thanks.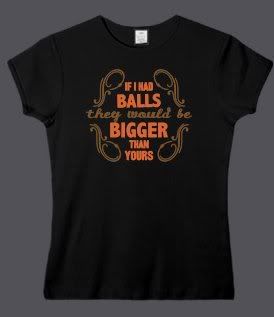 And then I leave you with this bomb ass remix of two of my favorite songs. Even if you aren't a whippersnapper, you should be able to appreciate it. If you cant, well then maybe you need to crack open a can of malt liquor and chill the fuck out.