So tomorrow I hit the ripe old age of 24. Jesus

pigraping

Christ; I really don't dig birthdays all that much because unfortunately, women only go downhill with age… at least guys can look "distinguished" or some bullshit. I guess I just need to hope that because I take good care of myself (heavy drinking

notwithstanding

), I'll age gracefully like my Aunt did and look like a cougar.

Despite not totally being enamored with my birthday, there are festivities planned that I'm totally psyched for. Also, Landon made me birthday pickles; unfortunately he put too much dill in them so they hurt your face with the sourness. I had to take them out of the fridge because they were making other food taste like goddamn pickles.

As I embark upon my

agedness

, I leave you with these lists--

Things I know:
Do not pluck eyebrows while drunk
Ninjas do not wear

corduroy

When bananas have more freckles than me, it's time to eat them or throw them out
Lady mullets mean my plumbing will be fixed the first time
If they come out with a new

CSI

show, The Who will be singing during the intro

Don't

watch colon cleansing infomercial while high; you'll get paranoid about the parasites and filth inside of you
If you are a female in your 30's and have

Nickleback's

"

Rockstar

" as your

ringtone

, you probably will take it in the

pooper

.
Things I have yet to learn:

Why would they make my wine fridge in such a way that a box of

Franzia

wont fit?
Why can I not stop staring at someone with googly eyes? I never know where they are looking...
I should not send emails while drunk, they are never flattering
Why more businesses

don't

hire the mentally handicapped; they are funny as hell to watch try to work
Do you know what I want for my birthday? Well, besides a pony, I want a tampon taser. The fresh floral scent helps eliminate fear, not just cover it up!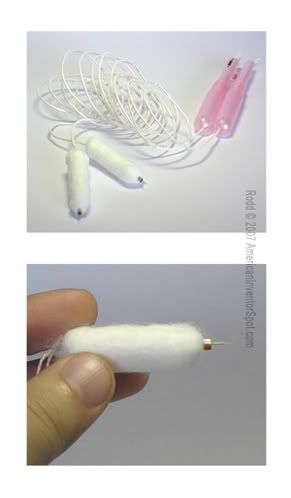 UPDATE: now i want this for my birthday too (my tits would look GREAT in it):