I've said it before, but I will say it again, I don't like telling second hand stories. This one is actually third hand, which makes me even lamer, but it's such a funny story that it is worth the high douche factor.

I heard it from a guy that works as a vacation facilitator; he takes out different companies, usually on a cruise for the people to blow off a little steam. This time he took out a group of accountants, on a cruise to Brazil, where they stayed in Brazil for a day and then went back. On the trip back, this guy we will call Frank noticed one of the accountants looked absolutely miserable. Being as it was his job to make sure these people were having a good time, he kept asking "Chuck" what was wrong, because on the way to Brazil, this guy had been in great spirits.

Finally, Chuck says "ok, but you need to promise not to tell anyone." Anytime someone says that as a preface to a story, you know it's going to be quality. After Frank's copious assurances, Chuck tells him that he met a woman in Brazil, and they started drinking and really hitting it off. Frank's coworker's start listening at this point.


Chuck: yeah, she was hot, and before I knew it she wanted to go back to her hotel room.
Frank: that sounds like good times.
Chuck: it was. We made out, and drank more, and then she started taking off her clothes.
Coworkers: and then you saw her dick, right?
Chuck: no, she didn't have a dick. She was all women.
Coworkers: niiiiice. So then what was the problem.
Chuck (with a heavy sigh): well, she asked if she could tie me up, and I let her.

Side Note- obviously this whore was fucking amazing looking if she can get some guy she met in a bar, in a foreign country to let her tie him up.


Frank: oh, she stole your wallet, right? Don't feel bad, this happens all of the time.
Chuck (with a look of pure, unadulterated misery): no, I wish she had just stolen my wallet. After she ties me up, she says she needs to go freshen up in the bathroom. I was slightly suspicious, but I ignored it. She didn't come out of the bathroom. A guy dressed as Batman did.
Coworkers: OH SHIT!
Chuck (almost in tears): I didn't know you could be ass raped while laying on your back!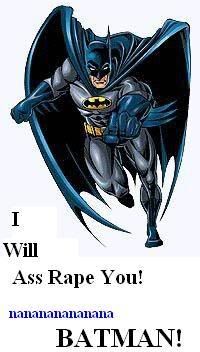 Well, I guess Chuck learned a valuable lesson about the mechanics of the butt-fuck. Now, he will have post traumatic stress whenever he sees Batmen commercials and paraphernalia. What may be worse, is being known at work as the guy who got an sodomized by a guy with a cape (I bet they sing that Batman theme song whenever he walks by)… it totally trumps doing something embarrassing while drunk at the office holiday party.

So, the moral of the story is, don't let strange whores tie you up and yes, you CAN get analy raped while lying on your back.