I always have the hardest time figuring out whom to give my Douchebag of the Month award to. The holiday season has more douchebaggery than strippers have abortions, so this month especially difficult to choose. However, after being bombarded with advertisements for this during transit, a time when I am already angry and screaming at motorists that I will "break their fucking legs", I was able to make my decision.

Many of you have had the misfortune of watching VH1's
"Rock of Love,"
a crappy reality show that even causes even atheists start praying the writer's strike ends. This do-rag wearing assbag brought his pathetic show to Minneapolis, where not only he wants to have a concert, he wanted to "meet" someone. So the local radio station had
a contest
between the local cougars where someone could win to hang out with him in his van. WTF?! I don't want to hear this audible abomination sing, much less hang out with him. Bret Michaels is so irrelevant, he has been washed up since before I was born.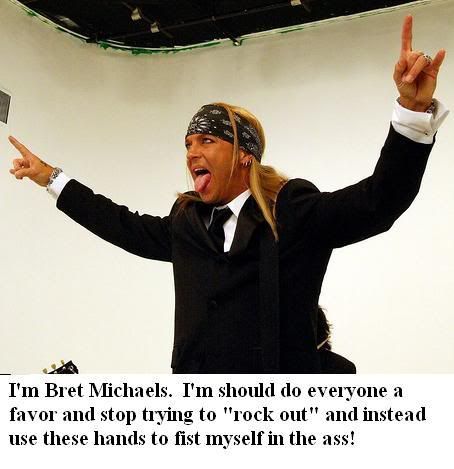 It still boggles my mind that people WANTED to be with him. Yes, I understand they were attention whores, making up for Daddy going to the gas station to get cigarettes and never coming back. But Judas H. Priest; I would rather have sex with three other people who also probably have STD's than fuck Bret Michaels.

So congratulations Bret Michaels, you win because you have brought your inherent douchyness to me at a local level. There's going to be a season 2, and I wish him the best of luck finding his next skell. I'm sure you will be very happy freezing warts off each other's genitals.