This weekend stuff ended with Lawyerman. I almost didn't mention it, because I like to keep personal shit that isn't amusing out of the blog, but I think I would be remiss in not saying something. It was overall the best for everyone, but even so, when these things happen, it's not all lollipops and rainbows. Some people deal with it by listening to Shania Twain and diving headfirst into a pint of Ben and Jerry's. Instead, I planned to go to the monster truck rally, get drunk and scream at the loud trucks. Despite living in the south until I was 21, I had never been to one. Unfortunately, Calvin Crustitron's second job got in the way, which was a bit of a bummer, because I knew going to a place where having all of your real teeth and a high school diploma was not average would have totally cheered me up.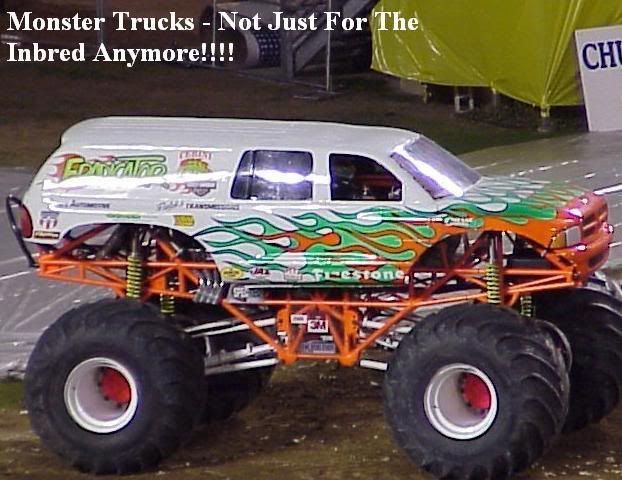 Instead, I went to
Renegades
with my friend Amy, Tonya and Angie. Our friend's band,
Undone
, was playing there (they are about to do a 17 state tour, so if they come near you, SEE THEM!). Even if I didn't personally know the guys, I would still listen to their music because they write it themselves and it's entirely quality. We hung out at the merch table, and I tried to convince their manager Dave that he should totally manage me, but I ONLY sing Lynyrd Skynyrd after bar close at Denny's; he said he was up for the challenge.

Radomly, Professor Beer, Milfgasm and some other people I know from their parties showed up after their wine party. Neither of us knew the other would be there, so it was a definite pleasant surprise. One of the best things Renegades has going for it, is it has this regular that is a crazy dancer. And I don't mean just a bad dancer, but like Woodstock-too-much-acid-swinging-her-hair-around-dancer. That night she hadn't been dancing, but instead rubbing her ass on some old biker, so Milfgasm and co took it upon them to drag her out on the dance floor so she could entertain the rest of us.

Granted, it wasn't monster trucks and mullets, but dancing with friends (and a weird old hippy) and seeing the boys from Undone was just what I needed. Oh, and welcome back Billy, one of the owners of Renegades… You were in Boston too long!