Discrimination is one of the lamest forms of douchebaggery. While reading the MN Atheist newsletter, I came across
a story
about the owner of
Q.Cumbers Restaurant
losing business because he was an atheist. I decided to check out this place to see if maybe there wasn't other reasons why he lost people's business. It was not your typical buffet; with a 50 foot salad bar, and signs all over the place that said "no preservatives" or "no msg" and many vegetarian friendly dishes, it was not only healthy but delFUCKINlicious. Q.Cumber's totally took the fatass factor out of buffet dining, with no fried food, and replacing ice cream with frozen yogurt. The "no waste" signs are also a fantastic idea, reminding people not to be greedy bastards, and only get what they are going to actually eat.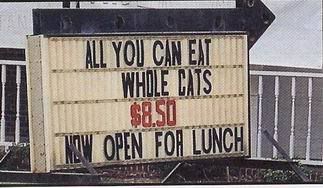 About the only way I would stop patronizing a food establishment is if I found pubes in their food or found out there was cat meat in my low mein. But to stop eating at a place simply because of the owner's religious preferences is just asstarded. Unless those religious preferences include sacrificing babies or not washing their hands after using the bathroom, there is no excuse. And this owner of the restaurant, Mickey McCabe, is actually a nice guy. The second time I went there, he was there bussing tables, which is more the norm for a small diner, however this is a much larger place, where you wouldn't expect to see that . I talked to him, told him I read the article about him. He was a very down to earth guy and he stopped what he was doing to talk to me for about 10 minutes. He said he had been receiving a bit of hate mail since the story.

It's sad when people are so wrapped up in religion (or the lack thereof) that they can't enjoy good, healthy food. Maybe they deserve the greasy, artery clogging, bland food of Old Country Buffet as punishment for their ignorance. I know most of you who read this aren't from Minnesota, but if you do happen to stop into town, check
Q.Cumbers
out.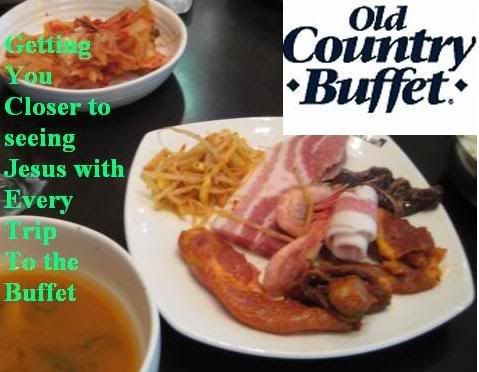 On a lighter note, today is Calvin Crustitron's 24th birthday. I owe you a beer, you whacky sonofabitch.