This weekend was chock full of some surprise hilarity. Keeping in mind I had been drinking throughout the movie Cloverfield beforehand (those people who bitch about the movie making them motion sick need to STFU, because I saw it while intoxicated and felt just dandy), and then before going to the bar we did some more pre-drinking, the 4 block walk to Old Chicago was certainly a drunken one. Awesomely enough, we saw a crutch in the trash; I'm still curious about the back story… did someone drink enough they didn't feel the pain anymore? Did someone get mad and take someone else's crutch away? Were they just using it to get pity from bar whores and it wasn't as effective as they thought? Ohhhh the possibilities! Of course I decide to take it out of the trash and comically hobble around with it, screaming and moaning about how I hurt my leg in 'Nam.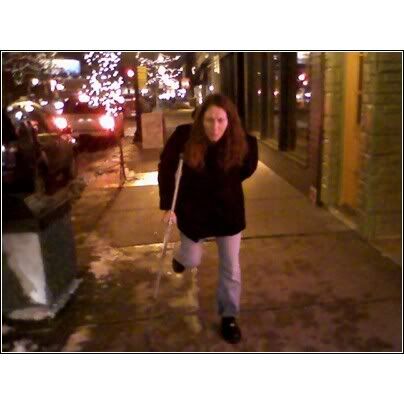 Notice the look of pain upon my face. Eventually that wasn't as funny, and I had been hobbling for close to a block now. I'm like "fuck this!" and lean my crutch against the passenger window of an SUV. About that time Landon notices that there's a guy in the driver side of the SUV who doesn't look real amused. We both are like "OHHHHH SHIT, RUNNNNNNNN!!!" luckily Old Chicago was super close. I can only imagine what people watching thought about it. Chick on a crutch, leans crutch against car, then starts running.

I almost wish the crutch had still been around when we were trying to walk back. I had so much I thought I might pass out in the booth. Landon, being the understanding douche he is was like "DRINK IT!!! DON'T WASTE BOOZE…" of course I somehow managed. Fortunately, the waiter we had that night has a thing for me, so he makes our personal pizza slightly wrong so then we get a free one.
One last thing to add from this weekend; saw this painted on top of the hood of a Saturn. WTF? a blue llama?