Like many people, I have a legitimate job. However, as I was looking at
this
, and thinking how much I didn't want to actually work today, I thought maybe I should consider changing professions. One in particular that interests me (because of the likelihood of making much money with minimal work) is Snake Oil Salesmen. And with the intrawebs and infomercials, I could be much more effective with my peddling of useless crap.

The key is making people think they NEEEEEED it.
This product
does a perfect job of that, convincing dumb bastards if they buy it, they won't die during germ warfare. And because it's from Sam's Club, you can buy a pack of 20, so that will totally make it actually effective. Folks, if there is legitimate germ warfare, I have some bad news, a UV light wand won't save you; it will just make you look like some wizardy douchebag.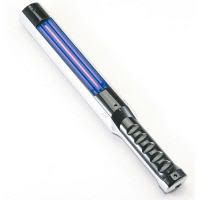 One of the biggest secrets of the Snake Oil sales is quantity.
Billy Mays
, that bearded asshole that yells at you about cleaning products, knows this. Granted, two of shit is still shit, he will scream at you, like a televangelist on PCP, that if you call RIGHT NOW he will throw in FREE OF CHARGE a third bottle of super-bleach. But I think, other than the free-shit-with-your-purchase concept, he also employs white trash guilt, implying your house can't possibly be clean since you don't have his products. I have no qualms guilting people into buying my snake oil.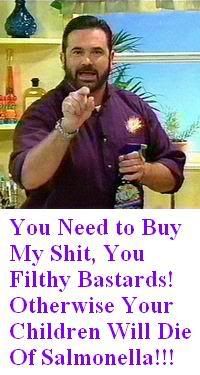 Going along with that same line of thought, convincing people that their life can be completely changed by a product will make it sell like crazy.
The Secret
is a prime example of this. Do you have a crappy job, sleep alone at night and get treated like ass by everyone? Well if you THINK strong enough thoughts, you can attract real events to change. I have a strong thought that this is bullshit; it must make it so. Weight loss drugs employ the same concept. No magic beans will peel off the weight, do some cardio and eat some fucking salads.
Naming is also important when selling a worthless product. One of my favorites is
Nads
(fuck, I was shocked nads.com wasn't already taken for a gay porn site). Now, like most people when I hear the word "nads" I think testicles. This shit is green and removes your unwanted hair. I had a friend in high school who used this snake oil, and not only did the majority of her hair not come off of her bikini area, but her cooch had all of these red angry bumps that looked much like The Herp. That's hot. I don't want those kind of nads anywhere near my crotch.

For more snake oil action, go here.