I'm not a football fan, mostly because it's just not violent enough. Anyway, I went to a football party last night, mostly because it's a party and it seemed like a quality way to spend my Monday night. It was the Vikings vs. Da Bears, and frankly I was more interested in the jello shots. I don't normally drink beer, but
Leinenkugal's creamy dark
tastes like a goddamn truffle, so I threw down the shackles of my usual mixed drinks in favor of it.

My friends that hosted it are some of the most awesome people I know, and even if they hadn't got me the most fanfuckingtastic present ever, this would be true. Some background on them, they are both atheists, but celebrate solstice. They don't buy presents for everyone, just if they see something that 'speaks' to them about a person. When they saw a cell phone flask, they immediately thought of me (it does scream Tequila Mockingbird). This sweet little 6 oz cherry of a flask, even has a belt clip!


I heard a disturbing story from a couple that lives on an Alpaca farm. Either they hadn't told this story at the last party I seen them at, or I was too trashed to remember, but on their farm they have a cow, and they had to castrate it. I don't even have testicles, and I was squirming around in my chair uncomfortably. Luckily, my socks offered some levity. Being that I was solidly the youngest one there, everyone else was at least over 35, I can say with some assuredness, no one else had striped frog toe socks.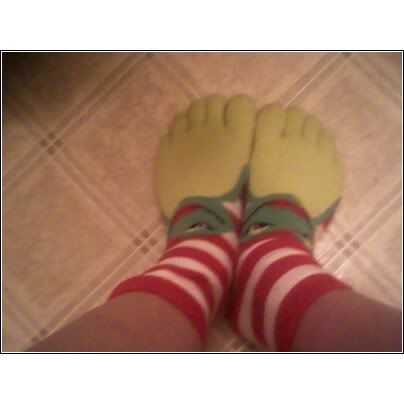 I bring you to #8 of my boozetastic 12 drinks of Giftmas.
Black Santa
3/4 oz of Coffee Liqueur (normally I go for Kahlua, but if you're planning on being up all night rockin' around the Giftmas tree, use

Starbucks coffee liqueur

)

1/4 oz Peppermint Schnapps

1/2 oz of Vodka
Pour Vodka and Kahlua into an old-fashioned glass filled with ice cubes. Add peppermint schnapps and DRINK UP!