Ok, I was tagged for a meme, and I don't get all hot and bothered by them, but I didnt feel like writing a "real" post. I took some of the questions out because I am lazy and the answer would've been boring... Those of you who read this often, know at the very least I am always entertaining.
1. Wrapping or gift bags? I can wrap like a motherfucker, but when I give someone the gift of booze, I stick it in a bag for quicker access (I do put a bow on it so it looks festive).
2. Real or artificial tree? Personally, it doesn't matter, but at someone else's house, I prefer to vomit in their real tree, because it covers up the smell of my shrimp cocktail and gin.
3. When do you put up the tree? This year it happened during a blizzard.
4. When do you take the tree down? When the needles fall off and I'm sick of finding them in the oddest places, like down the back of my thong (WTF?)
5. Do you like eggnog? Only if I make it, and fill it full of alcoholic goodness.
6. Favorite gift received as a child? Easy Bake Oven. I used to melt legos and barbies inside
.
7. Do you have a nativity scene? FUCK NO. I am a hardcore atheist. Although, one of my favorite Christmas memories was when I was 16; me, my gay best friend Mike, his then boyfriend and our slutty friend Casey stealing random pieces from people's nativity scenes while we were rolling on ecstasy. We ended up with a wise man, two donkeys, a baby Jesus, a black Virgin Mary, and a random reindeer.
8. Worst Christmas gift you ever received?
A goat.
Seriously.
9. Favorite Christmas Movie? Usually I would say " A Christmas Story", hell I even have the shirt, buuuuuuut,
"Barely Legal Christmas"
has taken it's place.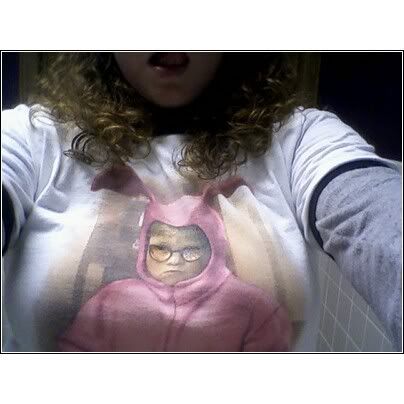 10. When do you start shopping for Christmas? Shopping? Fuck that, I shoplift… What present means more than one you could've gone to jail for?
11. Favorite thing to eat at Christmas? Cock. Xmas is the season for cock-gobbling.
12. Clear lights or colored on the tree? Clear lights. The glow gives my boob a woodie.
13. Can you name all of Santa's reindeer? Peppermint, Peach, Cinnamon, Apple, Butterscotch… oh wait, those are my favorite flavors of Schnapps.
14. Open the presents Christmas Eve or Christmas Morning? Depends on how hungover I am.
15. Most annoying thing about this time of year? Those bell ringing sons of bitches.
16. Do you decorate your tree in any specific theme or color? Actually yes. This year I listened to Tool and drunkenly decorated the tree with reds, whites and silvers. It looks fanfuckingtastic.
17. What do you leave for Santa? single malt scotch. It's why I get the shiny gifts.
This 9th drink of Giftmas was a recipe given to me by my friend MILFgasm.
Oatmeal Raisin Cookie
¾ oz Butterscotch Schnapps

¼ Cinnamon Schnapps (I recommend Goldshlager)

¼ Irish Cream
Pour over ice. It will leave you with the same feeling that 'all is right with the world', just like the cookies do. DO NOT SERVE TO CHILDREN.