For our office holiday card, we decided to go with a "have an over the top holiday" theme, and all wear tacky Christmas sweaters. So last week we went on a quest to find such sweaters. I figured the best place to find them would be at a thrift store. Unfortunately, we found none, but did see some interesting characters. Most interesting was what they sold there. Underpants and lingerie. WTF??!?!?! Used undergarments seems to be a really bad idea. I don't care how many times you wash it with bleach, I wouldn't wear someone else's underpants. It's not like underpants are that high ticket of an item, like a winter coat. Undergarments in my opinion are a one-owner item. Unless you are a stripper, then by all means, take 'em off and throw them into the crowd!

While on our sweater finding mission, we went into a couple of stores, and because we were on a lunch-hour timed mission, we had to be quick. So Calvin Crustitron, with his usual grace and finesse asked the employees where they kept their tacky holiday sweaters. Instantly, they lead us to the correct departments. I ended up with a vest that had cats wearing santa hats in stockings. I pimped that shit out, after all, it had a furred collar and bells!!! Calvin opted for a sexy, though homosexual, beaded-pearled-sequined snowman sweater (yes, it was a woman's sweater). They didn't use this picture of us, but here we are in all of our glory.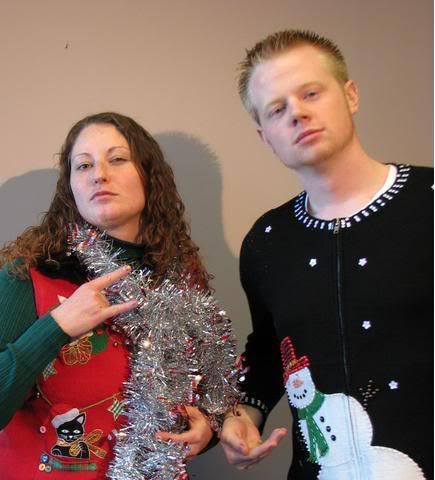 For some holiday cheer, go see
this
while it's still up. To get even more holiday cheer, try this:

Santa's Little Helper

1 1/2 oz Apple Schnapps

1 1/2 oz of Butterscotch Schnapps

1 1/2 oz Goldshlager

5 oz apple juice
Pour it into a cocktail shaker, shake it like a baby and strain into a large cocktail glass. Garnish with apple slice or cinnamon stick.