I am pretty fuckin' scared about getting old. Today when I was in Home Depot, this old man shit his pants. And I don't mean he let one fly that was unusually rancid, no this guy took a steaming dump in his pants. The smell followed me, like the Angel of Death for at least three isles. I'm not sure what would be worse, shitting my pants in public or not knowing/caring I just shit my pants in public.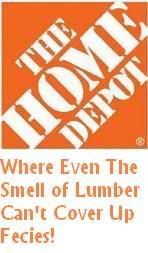 Granted, there are good things about growing older, like sweet parking spots places like Perkins offers for Senior Citizens (when I first saw them, I'm like WTF, they already get the most choice parking spots with their handicapped stickers). Not to mention, they get great food specials, which are like the reasonable portions of kids meals, without the toy. Oh, to be able to bitch about "the good ol' days" and force little children to listen and eat those disgusting Worther's Originals.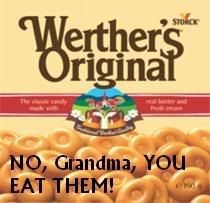 But worrying about breaking a hip and outliving your friends and loved ones would probably tip the scale to the negative side. So, to make up for this, I think when I get old, I'm going to make the best of it. I'm going to drive even faster than I do now; if I get stopped I'll simply tell the officer: "look at me, I'm elderly… I'm trying to out run the Grim Reaper, and I can't do that while going the speed limit." I will shoplift at every opportunity. If I'm caught, I will just pretend to be senile, and then start crying about how my grandchildren never visit me. They'll let me go. Also, I definitely will be starting electrical wheelchair jousting matches at the old folks home. I plan to take full advantage of whatever prescription drugs they try to offer me in
my nursing home
. But, I'll probably want to snort them to get the most benefits. With luck, I'll have some offspring to sneak booze in to me, in hopes of a place in my will.
This weekend's Giftmas Drink of Choice, is one that will keep you warmer than those fugly afghans old people use. If you haven't tried the other 2, you had better, because life is short, and you could be shitting your pants before you know it.
White Christmas Dream
1 oz vodka (I suggest Ketel One)
1 oz amaretto

nutmeg for garnish
Pour ingredients into shaker filled with ice. Shake (it is best to let a woman do the shaking so you can watch her boobs jiggle). Garnish with nutmeg after pouring into cocktail class.