What does porno and cookbooks have in common? The well used ones both have sticky pages! Anyway, I really think porn gets a bad rap by some people. Let's look at this subjectively; it is magical and provides some essential services. For example, it spices up a sexless marriage. I hate those broads who bitch and moan about their husband looking at porn. Well, would you rather him cheat on you? If you don't want to feel left out, why not join him in watching a bunch of attractive bodies slapping together in red-hot sexin'?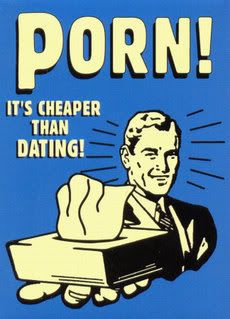 Porn also lights up a teenager's imagination. Kids are in need of some nudity and direction as to what they should be doing in the sack. Granted, real life sex usually isn't double penetration to every member of the cheerleading squad, but watching porn at least cuts down on the awkward fumbling. Although for chicks, once they get out and start finding penises of their own, it's a bit shocking to find out that most guys are not hung like a stallion with balls the size of tangerines.


Most importantly, pornography keeps a predator off the streets. It's hard to drive your rapist van when you are jacking off. People who say that porn made them commit rapes and child abuse are just trying to con their way out of trouble, and look for an excuse why they are a piece of shit. Fact of the matter is, if you're going to be a sick ass motherfucker, having porn wont put you over the edge, your own lack of self control will. Perhaps porn can make what little self control predators have last a little bit longer.

So I say HOOOOOOORAY PORN! Look at it often, look at it closely, and share it with a friend. One of
my favorite porn sites
is one of the best to look at nekkid celebrities. Since I'm posting about porn, I thought what better to have as my next drink of Giftmas, than some eggnog. It's boozy, festively delicious and requires a lot of beating.
Mockingbird Eggnog
Beat 9 large egg yolks (seperate out the egg whites) with 3/4 cup of sugar until the mixture is pale and thick with ribbons when the beaters are lifted from the bowl.

In a seperate bowl, beat two thirds of the egg whites until they hold soft peaks.

Do some more beating in a third bowl with 4 cups of heavy cream until it holds soft peaks.

Fold the whites into the yolk mixture until it is combined well and then fold in the whipped cream oh so gently BUT THOROUGHLY.

Pour it into a punch bowl, whisk in 1 cup of bourbon, 1/2 cup of dark rum (I use Captain Morgan), 2 1/2 half cups of milk, 1/4 teaspoon of salt.

Cover and chill for at least four hours.

Before serving, beat the remaining egg yolks in a bowl until they hold soft peaks, fold them into the eggnog and sprinkle with nutmeg and cinnamon.