It may be the 6th of the month, but the title of Douchebag of the Month does not necessarily need to be bestowed on the first for it to still carry all of the douchetastic honor. December's award goes out to all of the stores and places of commerce that have those bell ringing bastards outside. I have nothing against charity, but to be confronted by these self-righteous and (usually homely) people when I'm just trying to go grocery shopping (which I often do drunk); what a buzzkill.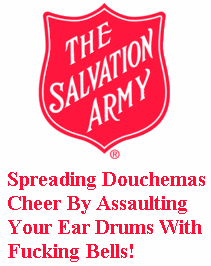 Just because it is the holiday season does not make it okay for people to beg for money, like a
skell
in a bar, offering sexual favors for a few dollars. You can wear a Santa hat and force some cheer, but this does not make me any more apt to part with my loose change. The Salvation Army, even without perpetrating douchebaggery under the guise of Christmas spirit and goodwill, is one of the WORST charities. They have been involved in
children's sex scandals
(I'm funny like that, I don't want to give money to pedophiles).

I would like to thank
Target for banning these harbingers of Douchemas
from ringing bells outside their store. Granted, they only did it because they did not want to be connected to scandalous organizations, but even so, it is nice to be able to go there and not be assaulted by bell ringing sons of bitches.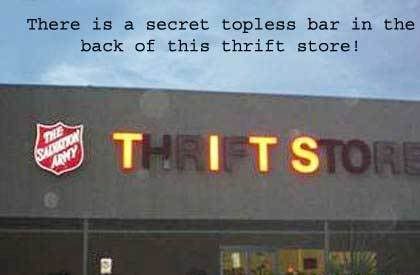 To lighten the mood, I would like to share the 2nd drink of my "12 Drinks of Giftmas."

The Candy Cane

3/4 oz of Creme de Cacao

3/4 oz of Schnapps, peppermint

1/4 oz of Grenadine
Fill a highball glass with grenadine and liquers. Stir, fill with cream, and top off with 7-up. Garnish with a candy cane.