Friday night me, my flask, and
Landon
went to see "I am Legend". Other people were supposed to come, but they shall remain anonymous douchebags. Anyway, Even if the movie's bad, I can still enjoy it when I add vodka to the movie theatre's slushies. This was a decent movie, and I would've probably liked it even if I hadn't been rocking the vodka slushie.

Afterwards we went to
Old Chicago in Uptown
, and managed to snag one of their gaming booths. For those of you who have never been to an Old Chicago, these booths have computer games that you can play for a dollar, and provide much drunken fun. I was already buzzed from the movie, and I couldn't manage to concentrate on the games because this guy that was some flavor of emotionally handicapped/disturbed was playing one of the free-standing computer games in front of us and every so often would hit himself on the chest, much like a gorilla. Perhaps I'm just using that as an excuse as to why I failed.

After one of the trivia questions about how many people committed suicide in 2006, it said: "Please don't kill yourself" WTF?! I couldn't tell if it was a joke or something their legal department put in there. Either way it was unexpected. What pissed me off is that they wouldn't let us use filthy names or expletives when we finished and were prompted to enter a name. That's no fun. So we were forced to be creative with such high-scoring names as "Pune nanny" or "Anul Beast".

The waitress got my first drink wrong, bringing me a 7 and vodka instead of a cran-vodka. This was a mixed blessing, being that I could take a few sips before she came back with my new drink, but this would also mean while waiting for her to bring me my correct drink, Landon is getting 'ahead' of me; he is not an easy one to catch up with. Overall, the drinks were light on vodka, and I was fortunate I still had some left in my flask to be able to top them off with. I had to be James Bond about adding more vodka, but these booths were perfect to be able to do it discreetly.

With two dollar rail drinks (it's one of the few times I'm ok with cheap vodka) and $2.50 beer, and a great atmosphere, chock full of whippersnappers, it's a great place to spend Friday night. Although, avoid Tuesdays, because that is karaoke night, and the people that work their go buck nutty and act like they are trying out for American Idol. Kudos to their $2 two topping pizzas, it's just what Dr. McVodkaBreath ordered to soak it up.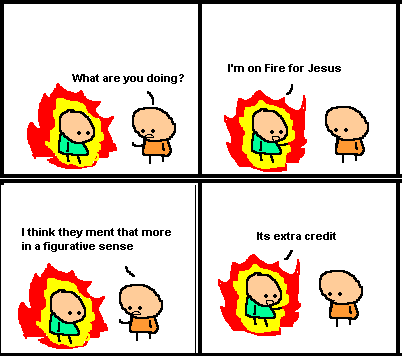 The 7th drink in my 12 drinks of Giftmas series is probably my most potent one. Don't plan on going anywhere after downing a couple of these.
The Flaming Jesus
1. part Grain Alcohol (I recommend Everclear)

1. part 151 Rum

Layer 151 on top of Everclear, Light on Fire, Drink on Fire