I didn't set out to do it this week, but the cosmos all aligned and I managed to do three happy hours in the span of three days. This gave me the golden opportunity to compare the pros and cons of the different places I've been to. The first one was on Tuesday, and unexpected, but after Calvin Crustitron got verbally sodomized at work, Sarah suggested we go get some drinks. We went to one of my personal favorite bars nearby, Bennegins. Not only do I love the rowdy Irish atmosphere, but the bartender knows me. He gives me Kettel One in my cranberry cocktails for rail vodka price. This is a good thing. I'm not that big of a fan of cheap vodka, it's like the ugly girl that gets taken out on a date when her hot roommate is uninterested. The problem with this bar, is that the bartender is somewhat creepy. I always know it's time to leave when he starts talking about "biting my freckles."

Wednesday, after a shitty long day of work, my friend that lives nearby invited me to go out to
Joe Sensors.
It's a decent bar, but fucking a, the way they have this gem nestled into the suburbs, it's worse than trying to get to a rave; you go down all of these frontage roads, and ask a guy who will tell you… ridonkulous; I would think they would want the bar to be easily found. But I didn't miss out on anything, they don't have drink specials until ten. That's honestly where Bennigans has them beat… they give 5-7 pm two for ones; it totally evens out things with the creepy bartender. The bartender at Joe Sensors was cool, and even pretended he wasn't eavesdropping when we were talking about swinger parties (before the emails start, no I don't go to them). When I ordered my Pirate Punch (great drink, FYI, with Bacardi Raz, Bacardi O, Bacardi Citron and some pineapply-punch) he made me re-order it using a pirate accent.

Last night I definitely wasn't planning on going out, but I got a call from my friend's wife, MILFgasm, asking me if I was missing something. My wallet had fallen out in his car, and because I'm 23, I get carded almost always. It would be a sad, sober weekend without my wallet. So I met him and his wife out at the Crowne Plaza, which has an awesome fire pit. But I was disappointed at the lack of prostitutes, because after all it WAS a hotel bar.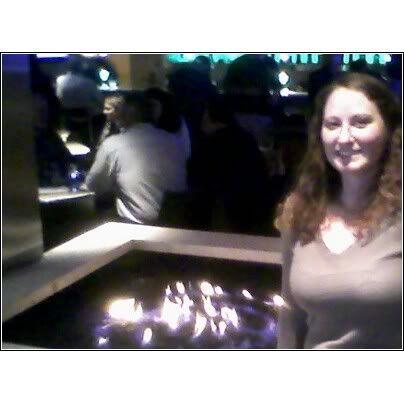 The first round of drinks were free thanks to a phone call to the manager by MILFgasm. They have fanfuckingtastic chicken nachos, but her husband's martini was lacking in flavor and her pomegranate martini wasn't mixed well. My blueberry vodka fizz martinis were heavy on the vodka, but I would rather them be potent than too light on the liquor. After a few of those, and discussion on how the fire pit resembled a sacrifice alter to offer up a goat, I decided to get some pics bowing down to it. The people watching were mostly amused, but a bit surprised that some chick was worshiping at a fire pit in a hotel lobby.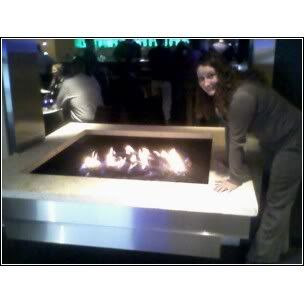 On that note, I will get to the next recipe in my 12 drinks of Giftmas series:

Mistletoe Apertif

In a tall shot glass, add 1/2 oz of

Chambord

Then gently pour 1/2 oz of

Midori

over the back of a spoon so it flows on top of the Chambord without mixing

Repeat that process with 1/2 oz of orange schnapps
You can flame it by igniting the top with a match; blow the flame out after a few seconds, and make sure the rim of the glass isn't too hot before throwing it back.