Yesterday I had the distinct displeasure of moving. In general, this is not a fun task, but it was worsened by the fact it had been a warmer 40 degrees during the weekend, so the snow had melted, and then Tuesday it was 30 below, so that froze up to make a slippery spots of bust-your-ass-death on the sidewalks. I guess this is why people don't move in the winter; in Fla this was never an issue. But, as Calvin Crustitron says, moving is like having sex for money; it sucks bad for a half hour, but then it's over.

Despite me moving on the worst day of the year, this was a good thing. I had been sharing an apartment with
randoms from craigslist
, and it wasn't a big deal because I was never around. But once my situation changed with Lawyerman, it actually mattered, and I found out what scum merchants I was living with. For example, I'm pretty sure the obese gay man I live with was peeing on the shower curtain; it sure as hell smelled like it. At the same time my situation changed,
The Novice
was going to be moving out of the apartment he and
Landon
shared, so I offered to take the room.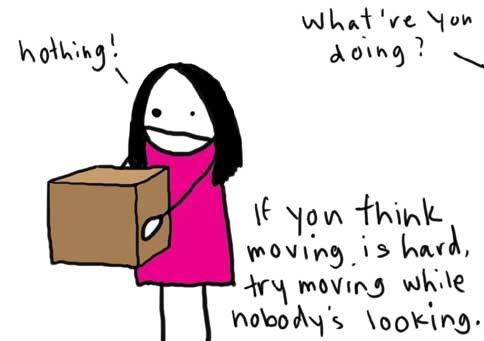 Luckily, I was only moving from one end of Uptown to the next (and actually, a better part, within walking distance to more bars), still this required a truck. After a desperate search, Calvin Crustitron had a friend who had one AND would help me move (I accused Landon of purposely being out of town on business so he wouldn't be forced to participate). Still not anticipating the move in the frigid cold (we even had some arctic wind action), I cowboyed up, took two shots of ketel one and put on my long johns. Calvin's friend was built like a spider monkey, sort of short but with a ton of upper body strength, formerly in the navy. Awesomely enough, Calvin's friend not only works for the price of a bottle of Captain Morgan, but he's also my neighbor and will be throwing a party this weekend. We are hoping to hook up Landon with one of the girls that lives in his house. Not only did I get help moving, but I gained a new drinking buddy.

The operation was overall successful, no thanks to the douchebag in my building who stole my (umm, well actually Landon's) large can of mushrooms we were using to prop the door open. I hope that assbag gets botchelism. Also, I figured out why it was so fucking cold in the apartment on Monday. The Novice left the windows open. Dude, what the fuck? But at least he left us with his Spanish whorehouse curtains. Christ, I don't know what we would've done without those.