It was definitely a binge-

tastic

weekend, which means I got absolutely nothing accomplished except for damaging my liver (hey, I'm growing it BIG n STRONG!) and making some cornbread (no, seriously, and it turned out quite well).

Friday night: I start out with some

pre

-drinking at home (I'm a boozer on a budget) then meet up with some friends at The Drink in Uptown because they gave us a free drink coupon. It was a good thing, because it solved the dilemma of where to go first. The waitress with the

grinch

eyes and the who-ville face was there, and it seems she is getting ready for winter, because she had packed on at least 20 lbs since we last saw her a couple months ago. The Novice was a

douchebag

and told her I wanted a picture of her, instead of just being James Bond about it and letting me sneak one.

So, we head on over to The Independent, where I saw a guy that looked like Kenny G. Me being the asshole that I am, I felt the overwhelming need to announce in my loud, drunken voice "

OHHHHHHH

MAAAH

FUCKING GAWD!!! IT'S KENNY G!!!" He was not amused, but because I had my boobs pressed up against him and my arm around him, being offended did not keep him from being a tool, and allowing me to take a picture with him.

Saturday night: Once I recovered from being hungover, I went to Sarah and Joe's
housewarming party. I

wasn

't quite sure which house was theirs because I left the house number at home. I figured if I knocked on enough doors, because I had a sack of liquor, SOMEONE would let me in. Anyway, when I get there, because it is a new place, I immediately look around for a place to vomit later (I like to plan ahead).

Bill showed up with a medal on, for some

Tae

Kwon

Do thing he had just gone to. Of course I want to wear it around. I threaten to steal it, he threatens to kick me. Even more fantastic, when

Dorf

shows up ALSO WITH A MEDAL (it was almost too good to be true), I promptly take it from him and challenge Bill to some

kung

fu

fighting. Sadly, the battle never happened. But I did almost get into a fight. My friend's girlfriend, who shall remain nameless, kept running her mouth, and practically BEGGING me to hit her in the face. Keeping in mind, she is only a few inches taller than most standard midgets, and I am almost 5'10", it would not have been a fair fight.

Soooooo

I laughed. A lot, in her face, and sometimes while pointing. Although, vodka blurred my vision, I'm pretty sure other people were laughing at her too. I told my friend that any acts of

douchebaggery

I may have committed upon him in the past, we were now 'even

stevens

'.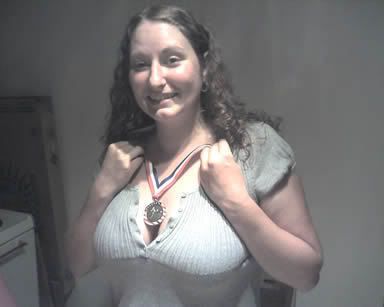 At a certain point, I was so drunk that even when I stopped drinking, I was still becoming more inebriated. It was time to "tap out". Like an animal that knows it will soon die and finds a quiet place to die, I found the airbeds and passed out. The next morning, I left the remaining bottle of vodka I had brought there, as a housewarming present (it's the gift that keeps giving). On the drive home, I was concerned about getting stopped by the law, because I still felt drunk. That's when you know you have a quality evening… when you still feel drunk the next day. I even met a new drinking buddy, April. What a grand night!