Last night I went to the
Trail of Terror
. I will fully admit that if the tickets were not free, and my flask was not full, I probably would not have had as good of a time. It's one of these cheesy events that now that I have experienced it once, I doubt I will ever go again.

First, we go into a tent on my quest for a mixer. No lemonade, so I settle for sierra mist upon the "bartender's" suggestion (all they served was crappy beer and bitch drinks like Smirnoff ice, confirming I made the right decision to bring the flask, and making me think I possibly should've brought a backup flask), and note his subtle warning that if I am adding anything, I had best do it discreetly so that the rent-a-cops didn't notice it. We decide to go on a lame hay ride; can you believe they wouldn't let me take my drink on it? I chugged it while in line, and this Lion-o type character came up and started growling at me, which I find hilarious, and being the asshole that I am, I call him out as a Thundercat on meth, and he tries to correct me, telling me that he's been doing this for 16 years (like that is some big goddamn accomplishment). Is he implying I should recognize him?
The people jumping out of the woods to scare us while on the hay ride looked like they had just gotten off work from Hot Topic, and really weren't trying that hard. I told them this too, and that they needed to give it 'their all'.

While walking to the big haunted house, I quickly gulped down another cocktail, and got another one to drink while in line. The chick at the front warned us not to touch the 'monsters' or to eat, drink, vomit, urinate, defecate or fornicate while inside. This brings to question, what had gone one in there before and if I did a couple of those at the same time, would it be one infraction or two? She also warned against cursing. WTF? How are you going to tell me not to weave my trademarked tapestry of profanity? What if something legitimately scared the shit out of me? There was this thing walking around, that looked much like Rainbow Brite and Rosie O'donnell, that made me want to gouge out my eyes so I didn't see it anymore.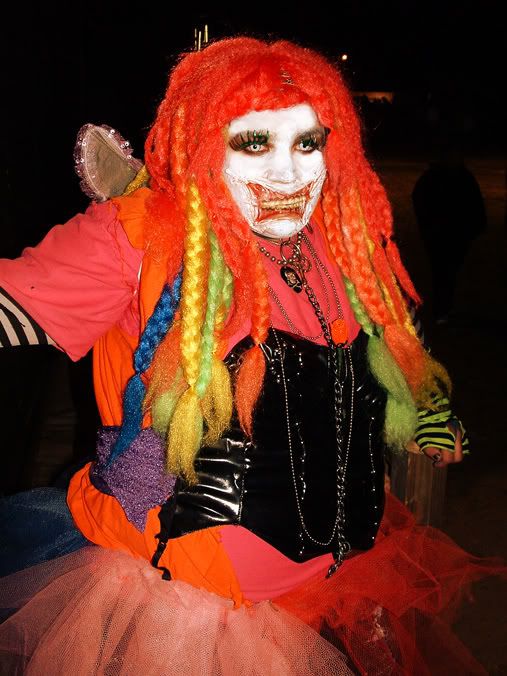 While in the haunted house, I became bored with people trying to scare me, so I decided to go rogue, and sneak around corners to try to scare them. Sometimes it worked. A couple of times the 'monsters' asked what was wrong with me. I got conflicting messages from them, when I would walk in one of these funhouse-like spinning tunnels that were glowing with blacklight, and I mentioned something about it would be way better if I was on ecstasy. The first girl said "DON'T DO DRUGS" and then a guy told me later on "HELL YEAH!"… As if that wasn't bizarre enough, when I got to the part of the haunted maze where there was a bloody operating room and people dressed as demented doctors and nurses with forceps and whatnot. I immediately say "YES! Can you guys give me an abortion?", but the monsters of condemnation assured me they were pro-life. I didn't actually see that coming. That probably scared me more than anything else. Here were teenagers, dressing up as zombies and monsters to frighten people, and they didn't support a woman's right to choose?
The whole experience was going straight to the shitter, until I turned a corner and saw HER. At first I thought she was a child, because she was pretending to be Chucky. I was being a dick and offering her candy, which I guess offended her, because she spoke up and said "I'm not a kid." That's when I noticed the rack on her. IT WAS A MIDGET!!!! WITH LARGE (relatively so, for her size) MIDGET BOOBS! Anyone who reads this blog, knows of my affection for midgets and how my aspirations include wanting to wrestle one in lime jello. I kept screeching about Ohhhh Mah Fuckin' GAWD, it's a MIDGET!!!! And my friend kept hurrying me along. Later I went back, now that I was prepared, hoping to work some sort of arrangement out to fulfill my midget wrestling goals, but she wasn't there. That made me look like a lying whore, because I had talked her up to the group we were with. When i asked one of the guys that worked there where she was, he said her name was Cassie, and she was a horny little midget girl (this he knew firsthand from some kind of party that everyone went to the weekend before). Even if that is not true, it was her presence that really made my night. Thanks Midget Girl With The Big Cans