Maybe I'm just old fashioned, but I like to drink my booze. Bob brought to my attention this morning a
story about alcoholic enemas
. This guy (and possibly also
this guy
) was addicted to enemas (ew, what an shitty thing to be addicted to…. Even heroin with it's painful and violently ill withdraws and propensity to start sucking dick for cash is better than THAT), and like to fill them with booze to get drunk. It ended up killing him, but I bet he was shitfaced before he died(your intestines absorb booze much more quickly than your stomach does).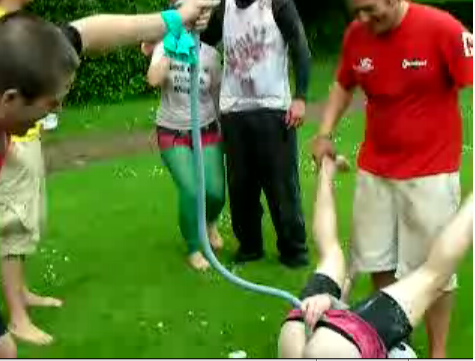 He is not alone in zest for getting anally drunk. During a search of this practice (won't it be fun if my job ever checks the sites I visit at work?), I found many groups, and "how to" websites. My favorites are some of the
helpful tips
they gave. Some seemed like common sense; for example they say you should use warm beer or wine. Why? Because cold alcohol might be uncomfortable… YOU ARE STICKING A TURKEY BASTER UP YOUR ASS TO GET DRUNK!!! I did not think comfort would be a key part of the equation.
Whatever happened to good ol' fashioned getting buzzed off of ingesting liquor orally? Last night, I had a great time stumbling through a corn field maze after some flask action. There was no need to shove anything up my ass, alien-probe style. I think when you get to the point where getting drunk the regular way just isn't enough to rock your dock, it's time to hit a rehab facility. Much more appealing than shooting booze up my ass is
this
. Vodka pills sound awesome and only take 24 hours. If it hasn't already happened yet, I'm sure there will be combining of anal boozing and vodka pills with the insertion of them into someone's ass.