Friday wasn't really notable, but Saturday night more than made up for it. Went out with my boys, The Novice (my "project", as he needs assistance getting laid), Landon (his room mate), and Camaroon. Before we met up with Camaroon in downtown (he was at the insufferable Bella Notte, with its pretentious crowd, and expensive drinks), we stopped at Liquor Lyles in Uptown. Everyone knows the phrase "man's man" well, this place was a "bar's bar". It has two happy hours, one in the afternoon and then another one at night, and is filled to the brim with used up stripper types and full blown alcoholics. Buuuuut, they have two for one specials, with extra potent drinks. I also met the first of three pirates there. He wasn't dressed up like a pirate to be funny, like the second one I met who was part of a bachelorette party, I think he was just a little "off".
Notice the anchor prison-style tattoo on his cheek
.

At Bella Notte, the only really interesting thing that happened was the population of Amazon Women. I'm kind of tall for a chick, almost 5'10", and these broads had to be 6 foot. Like, they were so ginormous, I would not have been surprised to see William Shatner beaming down to their planet.

We stayed the remainder of the night at The Local, a great irish pub. I managed to piss off the bartender, which sucked because he made me a Cran-Vodka that was redder than the blood of a Scotsman. Unfortunately, I hadn't brought my flask to top it off with, so I regulated myself to getting drinks from the other side of the bar.

I almost got into a fight with some douchebag playing the piano. He kept playing the same John Lennon song, "Imagine", which I like, but not 11 times in a row. I told him I would rather suck off an AIDS patient than hear that goddamn song again. He then challenged me to play, and I knew I was drunk enough I should not accept that challenge. The Novice's piano talents rival, if not exceed mine, and so he tried to defend my honor and accept the challenge, and the Dbag was not letting him play. I threatened to punch him in the throat, and although I was with four guys, the PianoDouche was with a bunch of friends too, so Camaroon wisely tried to simmer me down.

After bar close, we went to Jimmy Johns, for some boozed up sandwich action. Granted, I didn't expect the employees to be friendly, but they were downright rude. I know it sucks to work at a sandwich place in downtown after bar close, and deal with a bunch of drunks, but there's no need to be an asshole about it. Somehow half of my sandwich fell on the ground, so I took it with me to the restroom, and arranged it (artfully, I thought) upon the toilet. If they were happy about their station in life, I doubt they were when they came in later to clean the bathrooms and saw this: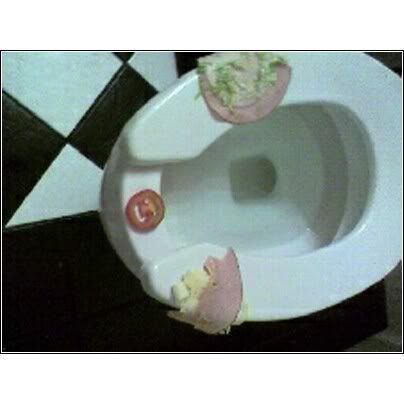 Sunday, when I was looking in my wallet to see how much money I invested in getting drunk the night before, I found a dollar with "I've got enough cum in my eye to know I don't like it" scrawled in my handwriting. I don't recall the conversation that inspired me to write that, but I can only imagine the curiosity of the person who receives that dollar down the road.
A special congratulations goes out to Camaroon for bagging a Cougar.