When did clowns go from being something that brought children joy, so a source of fear and misery? I know I never trusted clowns, and not just because of being a kid when Stephen King's movie "IT" came out (come on, it's a grown man wearing makeup and going out of his way to hang out with children). Today my suspicions are once again confirmed when I hear about
Klutzo

, a "Christian Clown",
who was found with a bunch of naked pictures of

Filipino

boys on his camera by airport security. Boy, was his nose red! Seems like he was spreading more than just God's love to the orphanage…

Why do they even still let clowns visit children in hospitals? Don't these children have enough problems, with their

leukemia

and other life threatening

illnesses

, without having a possible child predator welcomed into their ward to play 'doctor'? And what

dumbass

parent is still hiring a clown for their child's birthday party? Why not just look up registered child

molesters

on the

internet

and ask them to come on over; the end result is usually the same. Even the creepy guy that does 'magic' tricks and is letting his 'wand'

disappear

into little Timmy's mouth is probably a better choice that

Pervy

the Clown.
At least
Ouchy

the S&M Clown
is honest about being a sexual deviant. He will tie you up, beat your ass, and show you which clown is boss. It's the clowns that pretend they are happy-go-lucky and squirt you in the eye with water from their flower that we should be careful of. Besides, how do we even KNOW it's water that they shoot from their lapel? It could be more than their

over sized

novelty shoes poking you....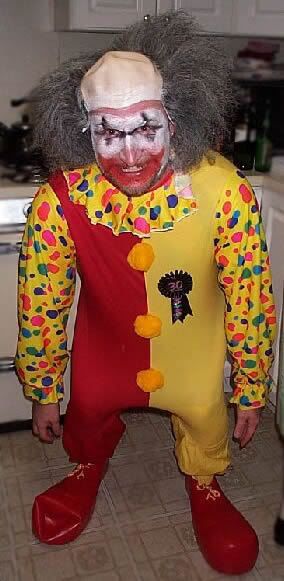 I think we should listen to
Captain

Spaulding
from "The Devil's Rejects" when he says: "never turn your back on a fucking clown!" Which means, YOU ARE ON FUCKING NOTICE RONALD MCDONALD! Keep it in your pants, because we don't need you making the meals any more happy.